A Fun Way to Use Black and Whites at the Office
A Fun Way to Use Black-and-Whites at the Office!
Off to work? Whether you're off to a meeting or the usual morning grade, it's best to make sure that you look your best! Most offices would require you to have a dress code, and while that may make you feel like you can't be stylish, you're in the wrong! Black-and-whites may seem like you're going into the stereotypical work look, but you can still make your boring black-and-white outfits cute and stunning! Wondering how? Here's an ensemble you'll definitely love!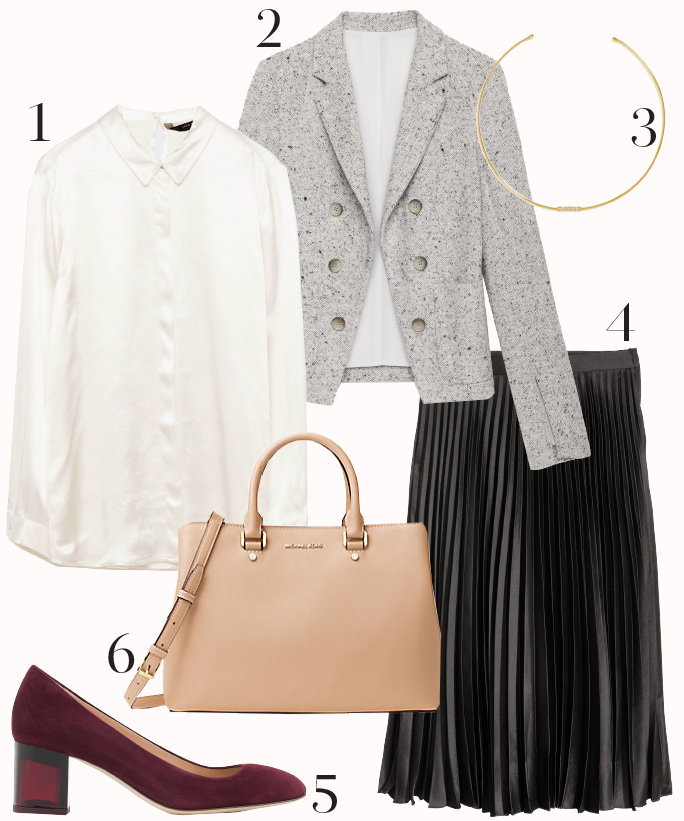 Match this blouse a cute skirt or slacks, it doesn't matter. It goes with just about anything. You'll look professional while still being in style. Tuck it in to accentuate your body shape and give you the casual feel. Oh, and let the satin feel great around your upper body!
Your office may be cold and you'll need to look professional. What screams out warm and professional than a blazer? Let this gray and boyish gray blazer balance out your edgy bottom and heels. You'll add a ton of personality and still look great. Plus, the soft and warm material will keep you cozy during those times where the A/C may be working a little too hard.
No outfit is complete without an accessory to complement it. This choker will give you the edgy style without going too far. It's minimalism at its finest, giving you a tinge of gold from the neutral black-and-white colors. Plus, it won't steal attention but will fill what's missing in your outfit.
Instead of the usual pencil skirts, go for a mid-length accordion pleat styled one. It's still conservative and follows the office rules, but you look even more chic. The flow and pleat design will have the girls envious of the change. Plus, it's made out of the right material that has you in both comfort and style. It's a must-have!
Bored of the usual black heels? Go for burgundy pumps that won't hurt your feet from walking or standing all day! You'll be able to rush to meetings or lunch dates with these pumps. It's not only a sight for the eyes, but for your feet as well. No matter where you're going, you'll be able to walk around comfortable and without fear of stumbling.
If you need the bag to stuff all your essentials in, then this neutral bag from Micahel Kors will do just the trick. Finish your outfit with nude colors to have it pop but still show simplicity. It fits a lot, from your half-eaten sandwich down to your notes from the last meeting.